The electrical systems are therefore huge, often linking multiple greenhouses via an interconnected control system.
CambridgeHOK, the UK's leading manufacturer of commercial greenhouses, has designed, installed and commissioned the infrastructure surrounding four 5.5MW Rolls Royce engines that are used in a Combined Heat and Power (CHP) plant for a major grower on the Isle of Wight.
With the need to modernise facilities, the project was devised, mainly to ensure energy efficiency but also to improve control and ensure the equipment and technology were of high quality so that safety and reliability were world-class.
Involving the demolition of existing facilities and the building of two new CHP energy centres which served the massive 270,000m2 (27 Hectare or 67 Acres) of glasshouses, it also included geo-technical surveys. These to establish ground conditions and the design and build of reinforced concrete bases, including free standing engine bases.
In another aspect of the project, CambridgeHOK fitted all of the interconnecting pipework between the backup boiler plant and the Rolls Royce engines for high and low temperature heat requirements and management of carbon dioxide from the flue gases.
Related to this was the installing of two 5,600,000 litres insulated hot water storage tanks to store the heat from the CHP engines during the day, so that it can be utilised in the greenhouses overnight.
The new Energy Centre Portal framed buildings that house all of the plant were designed and built by CambridgeHOK using composite panels. They also designed the electrical and control systems for the whole facility from 33kV at grid to LV and ELV circuits, utilising a Priva BMS control system to manage the engines.
Home to the latest CHP technology, the new energy center is represented by four Rolls Royce gensets or gas engines, each producing 5,605kW of electrical power and 6,415kW of heat.
Modern equipment is used throughout, including electrical enclosures from Spelsberg made from high performance engineering plastic. These replace the older style metal enclosures that were used previously and bring benefits such as more stable internal temperatures, high strength, reduce corrosion and because they are visible to visitors, meaning a smart appearance.
The electricity produced is fed into the local grid, while the extracted heat from the exhaust gases and the engine cooling systems will be used to heat the greenhouses. Further, after cleaning, the engine exhaust gases are injected into the greenhouses to increase the ambient carbon dioxide content in order to promote plant growth.
CambridgeHOK and Spelsberg, worked together to supply all the electrical enclosures and junction boxes required for the electrical and control systems. Each enclosure can be populated, mounted and connected quickly, which on a large project involving many enclosures can added up to a significant saving in time and cost, the latter nicely complementing the units' competitive purchase price.
Production area is made up of 32 bays, in each of which the heating, ventilation, humidity, irrigation, lighting, solar shades, thermal shades and side screens are controlled. Every bay has its own local distribution board, made up of three Spelsberg enclosures mounted side by side below the raised beds or production tables so that they are easily accessible but out of the way of the growing plants.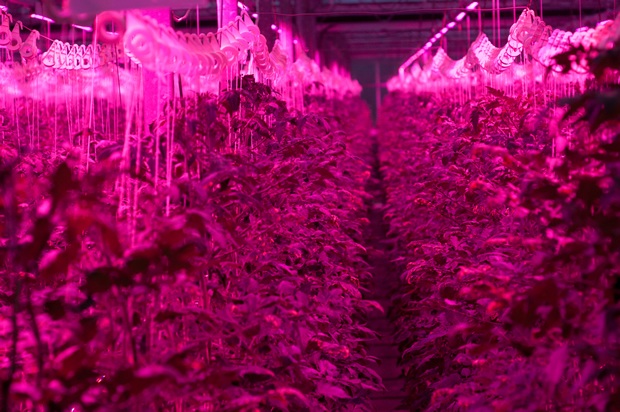 Most of the enclosures installed in the greenhouse are Spelsberg GTi and B Box models, both of which are made from engineering plastic. These are smaller than the metal units used in the old, demolished facilities and were chosen partly because they could fit into the space available.
The GTi enclosures are a popular choice for situations where requirements for moisture protection are especially high. They are made from high-grade polycarbonate, so represent a corrosion-free alternative to steel boxes, and they are designed to be flexible and easily adapted to the requirements of the system in which they are used.
Thanks to their modular design and open sides, they can be expanded or connected to adjacent GTis at any time without difficulty – and without the need for snapping away side walls. The Spelsberg B Box design incorporates raised terminals, which makes installation quick and easy and also helps keep the wiring orderly and easily checked.
Mounting on the box is designed so that it is always secure; this is useful in commercial greenhouses where operatives tend to focus on the crop yet work in close proximity to electrical systems, so an insecure fitting could represent a very significant risk.
Further enhancing the robustness of the fitting, B Boxes have eight M20 threaded cable entries that do not require an extra lock nut. Also the wire clamping technique is inherently space saving and there is a condensation opening on each side wall.
Helping CambridgeHOK maintain its project schedule, the B Box can be assembled without tools. Once erected it is completely watertight, a critical attribute considering the need for regular crop irrigation.
It is made of a halogen-free thermoplastic so can be used in almost all environments. As a final touch to user-friendliness, Spelsberg has made sure that the cover can be written on for the simplest possible labelling method.
Spelsberg's Clare McCusker recalls the LED lighting section of the project, which was completed at the end of October 2015: "It was a big job, not only in the amount of equipment we had to supply, but also in the shear area that it covered."
Clare recalls there were approximately 2080 high level LED lighting modules and 4480 intermediate level LED lighting modules installed across two of the glasshouse blocks which spanned one hectare, all of which had to be interconnected and controlled by a distributed computer control system. "We supplied all the junction boxes and glands for the interconnections and 'GTi' enclosures to form the power distribution system from the local substation."
In such projects, it's easy for costs to quickly spiral upwards, however, if specification and delivery of components is well managed, then it's possible to generate a small cost saving per product, which quickly multiplies over the scale of the project, Clare added. "The fact that the Spelsberg enclosures were a low cost solution compared to a steel equivalent was therefore much appreciated, while their ease of assembly saved time on site and likewise added up to helping keep to the tight fitting-out schedule."
With energy being a major cost, CHP has become more popular with the UK's commercial growers who face pressure from the supermarkets to keep prices low and increasing competition from overseas growers who benefit from warmer climates and lower labour costs.
Clare again: "Today's commercial greenhouses use cutting edge technology throughout. Spelsberg enclosures are proving a popular choice with growers, who appreciate their ease of installation, long term reliability and tolerance of hot and humid operating conditions.