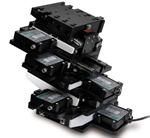 Complementing and completing Nanomotion's range of ceramic motor driven miniature positioning stages, the new FBG series goniometer is available in four stack sizes that combine to provide a common pivoting point for a two-axis tip/tilt angular motion set-up with a positioning resolution as low as 1 arc second. Available from Heason Technology, the low profile stages provide pivot axis radii of 71, 96, 102 and 137 mm.
As with the FB series linear stages, the FBZ vertical wedge stage, and the FBR rotary stage, the new FBG goniometer features Nanomotion's HR series high force ceramic motors with non-contact optical encoders and precision cross roller bearings. With the encoders and bearings in a precise curved design that follows the travel profile, the goniometer stage provides a wide dynamic speed range with very high acceleration characteristics, exceptional smoothness with high stiffness, zero backlash, and an excellent load carrying capacity.

The entire Nanomotion stage range can be assembled to provide multi-axis automated micropositioning covering all six degrees of freedom and prepared for standard, vacuum and UHV environments.

Perfectly suited to miniature space saving, ultra-clean and vacuum environments such as those found in semiconductor, biomedical and photonics automation systems, Nanomotion's compact ceramic motor technology has no intrinsic magnetic field or wear-prone moving parts, and provides an inherent braking and holding capability with a dynamic performance that benefits from extremely fast settling times and optimum in-position stability. The well proven technology provides maximum throughput rates for today's most challenging micropositioning applications in both industry and research.

These compact goniometers can be driven and controlled with Nanomotion's AB and Flex series controller/drives. Heason Technology also offers other ceramic motor compatible drives together with a complete range of motion controllers for linear and rotary micropositioning.