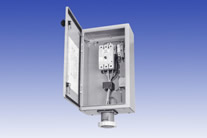 Market activists FDB Electrical once again offer a really serious electrical protection device – in this case the FDB 17 RCCB/ECM with 3-phase socket outlet. This unit is designed specifically for use with remote, transportable or mobile industrial equipment such as steam cleaners, floor polishers, power distribution trolleys, generators, pumps etc, where it provides an Earth Monitor and Trip function incorporating a triple pole MCCB for overcurrent and short circuit protection.
The FDB 17 comprises a range of heavy duty electrical protection units each incorporating a high or medium sensitivity RCD, together with adjustable Earth Monitor and a triple pole MCCB to provide overcurrent and short circuit protection. This series affords total protection to portable and transportable plant and equipment where the maintenance of a reliable earth is vital and where the earth line itself is at risk from accidental damage or disconnection. Ratings cover 380/440V 50Hz TP+N (500V available) with 16A, 32A, 53A and 125A capabilities. Residual tripping currents of 20mA, 30mA, 100mA and 300mA are catered for.

The integral EMGUARD Earth Continuity Monitor (ECM) provides an effective method of ensuring earth bonding to remote equipment by continuously monitoring the integrity of the earth conductor between the ECM and the protected apparatus via the external socket outlet. This socket will specifically accept plugs to IEC/EN 60309-2 (BS4343) fitted with a dedicated pilot pin, and combined with the ECM, provides an electrical interlock ensuring that the plug cannot be removed or inserted on load. Neither can the socket be energised unless the correct plug is fully inserted.

Housed in robust, lockable steel enclosures to IP65, this range is designed to meet the protection requirements of most commercial and industrial installations. Further information on FDB Electrical products and services may be found at: www.fdb.uk.com.