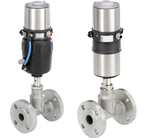 Intelligent valve positioners, through their compact and hygienic design are the ideal component as part of a decentralised automation process in a hygienic environment. The ability to control pneumatic actuation, feedback and diagnostic functions with the additional benefit of fieldbus communication, in combination with a suitable control valve, makes this arrangement very useful in a range of process automation tasks.
The new intelligent Positioner TopControl BASIC, Type 8694 from Bürkert is specifically designed for applications in hygienic process environments; with a compact design, it is optimised for integrated mounting on the ELEMENT and CLASSIC valves ranges as well as 3rd party process valves. The stainless steel housing features IP ratings up to IP67 and chemically resistant materials for use in food, beverage and pharmaceutical industries.

Installation of the new valve positioner is made simple through the Process TUNE function and integral DIP switches which are used to set up the close tight function, select characteristic curves, select manual / automatic operation and use binary input to control valve activation.

The indexing of the valve position is performed by a contact-free analogue position sensor, which recognises and saves the valve end position through the Teach function when starting up. Combined with a remote setpoint adjustment feature using either the 4-20mA signal or through the AS-interface as well as manual actuation and high powered coloured status LEDs, the new valve positioner provides all the key features required in a modern process control system.

The new positioner can be combined with actuator sizes ELEMENT 70/90/130, CLASSIC 80-225 or with compact 3rd party process valves. When used in conjunction with the ELEMENT actuators, the unique pilot valve system enables a compressed air recycling that avoids contamination of the actuator chamber from the local environment. In addition, the pneumatic actuator system reduces overall energy consumption due to the zero intrinsic air consumption figure for when the valve is in steady state.

This new positioner enables complete, uniform control solutions to be implemented, regardless of whether they are hygienic single seat, double seat or butterfly valves or even fittings for auxiliary mediums such as steam, water or cleaning chemicals. This standardisation helps to reduce stock levels and simplifies the plant operation by reducing the diversity of devices.