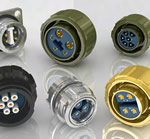 A series of rugged, high reliability screw coupling circular connectors is announced by Lane Electronics, an industry leader for the supply of electrical and electronic interconnection products. Fully approved to BS 9522 F0014, the IP67 rated LMG range is ideally suited for use in any harsh environment where a high resistance to vibration, the ingress of liquids and a very rugged construction are high priorities.
Manufactured by Weald Electronics, the LMG range comes with either an aluminium alloy shell with a fine thread coupling or a brass shell with a coarse thread. Designed for DC and low frequency applications, these multi-contact circular connectors come with polychloroprene inserts and solder contacts. Lane Electronics can supply LMG connectors with 2 to 26 contacts in 19 contact arrangements.

Current capability ranges from 3 to 60A depending on size and the connectors are available in various finishes including RoHS compliant and can be supplied with 360º EMC screen termination.

Lane is an ideal source for all key connector types including circular, filtered, RF, coaxial, sub – miniature, backshells and adaptors, D connectors, aerospace, test & measurement, IDC, PCB connectors, edge connectors and connectors for rack and panel applications.