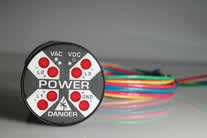 A Universal Power Alert (UPA) device gives a clear, visual indication of any residual power within an electrical enclosure, leading to higher levels of safety for operating, service or maintenance personnel. The latest UPA-130 model, now available from Marsh Bellofram Europe Ltd, is a smaller unit which has been designed to be fitted in a standard 30mm diameter panel knockout, while the original UPA-100 fitted a 1.1/4" size conduit knockout.
Both products enjoy the same operating principles and provide identical levels of safety when fitted to control panels, circuit breaker boxes or other types of enclosed electrical isolating devices. The features include the verification of zero-energy for safe working conditions, or the detection and indication of either single or three phase ac voltages within an enclosed unit. The presence of dc or stored energy is also similarly identified. This helps to reduce the potential for arc-flash and electrocution risk for personnel having the responsibility for undertaking maintenance or repairs on electrical machinery or equipment.

The UPA power alert is hard wired to the circuit breaker or other disconnect devices and pre-verifies from the outside of the control panel or enclosure that full electrical isolation exists. The power alert incorporates redundant circuitry and is powered by the same voltage that it indicates, and so identifies hazardous conditions before access is gained to enclosures. It also enhances compliance with NFPA and OSHA recommendations on 'the control of hazardous energy'.

The eight LED indicator/detector visually alerts to dangerous conditions where ac potential occurs between any combination of the four monitored input lines (L1, L2, L3 and earth or GND). Two LED lights (designated + and –) are assigned to each input line. For each of these lines carrying an ac potential (bi-polar), both LED's are illuminated and will flash. In the event of dc or stored energy potential, the + or – respective LED will be illuminated for the appropriate + or – line.

Operational power range is 40 to 750Vac, 50/60/400Hz for single and three phase supplies. DC or stored energy is 30 to 1000Vdc. In all cases line-to-line and line-to-GND leakage conditions are identified. Power consumption is approximately 1.2 watts at 750Vac and the LED flash rate/sec varies from approximately 1.5 to 9 with the rate increasing as the voltages get higher. Supplied in NEMA 4X totally encapsulated housings for environmental protection, the UPA devices are supplied with 6ft (1.8 metre) min length terminations and can be fitted to panels between 1/16" – 3/16" (1.6 – 4.75mm) thick with approximately 1.5" (38mm) rear of panel projection. The operating temperature range is -20 to +55°C, with storage conditions being -40 to +85°C.