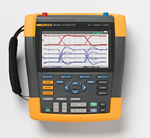 Fluke, the global leader in portable electronic test and measurement technology, has introduced three new 2-channel models, the Fluke 190-202, the Fluke 190-102 and the Fluke 190-062, to its highly successful range of rugged, handheld, portable 190 Series II ScopeMeters®. Offering 200MHz, 100MHz and 60MHz respectively, up to 2.5 GS/s real time sampling rate and 400 pico seconds resolution, they complement the recently introduced four-channel Fluke 190-204 and Fluke 190-104 Series II ScopeMeters.
Together they are the first oscilloscopes on the market with 1000V CAT III / 600V CAT IV safety rating, bringing an unprecedented combination of performance and ruggedness into the field. Designed for the industrial plant maintenance professional servicing, installing and maintaining heavy duty electrical equipment, electro-mechanical machinery and plant automation control systems, they can be safely used on industrial equipment that is permanently installed on an electrical distribution system.

The Fluke 190 Series II ScopeMeters offer a number of powerful and time-saving features for increased productivity. Connect&View™ triggering offers hands-free operation, providing an immediate, stable display for capturing and displaying complex waveforms for rapid fault finding. The TrendPlot™ recording function helps uncover long-term trends and shows changes in any of the measurable parameters, like the rise-time of a signal. Frequency Spectrum Analysis using FFT helps to identify individual frequency components contained in a signal. The ScopeRecord™ function allows waveform recordings to be made over an extended period of up to 48 hours. A 'Replay' function enables the user to take a closer look at any anomaly seen flashing by on the screen, by re-playing the last sequence of 100 screen images.

The new Fluke 190 Series II ScopeMeters are designed for use in harsh environments. The sealed casing is IP51 rated and the high capacity Li-ion rechargeable battery is designed for operation up to 7 hours with easy access for battery switching to extend operating time. USB ports offer PC connectivity and memory device insertion. In addition, the Fluke 190-xx2/S Series II ScopeMeters includes the SSC Kit, offering a hard case and FlukeView software for documenting, archiving and for further data analysis.