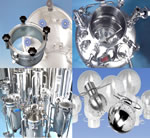 To complement Axium Process' stainless steel tank and vessel fabrications, the company has extended its range of hygienic stainless steel fittings and process components to include a comprehensive range of tank ancillaries including 304/316 stainless steel tank manways, sprayballs, level gauges, clamp blank sightglasses and tank ferrules.
Providing easy access to tanks and storage vessels, Axium's range of high and low pressure manways now includes a PED certified range, a crevice free range available with a domed, low product hold up cover and a tempered glass lid manway option designed for easy product viewing with a working pressure of up to 3 bar. Available with material certification to BS EN 10204 3.1, the manways are available as hinged, multi-clamp and swivel lever designs with openings ranging from 150mm to 1200mm.

Where a cost effective solution for tank washing duties is required, Axium offers a range of hygienic stainless steel sprayballs which are self draining and are designed to effectively distribute both water and cleaning solutions onto the internal surface area of tanks and vessels. Available with ball diameters from 1½" up to 3½", the range of 316L stainless steel sprayballs is available with 360◦, 180◦ upward and downward options.

The company has also evolved its range of ferrules to include a specifically designed ferrule for welding on to tanks and vessels. The 316L stainless steel heavy duty ferrules are available in sizes from ½" – 10" and can be machined to match schedule pipe sizes 5S, 10S, 20S and 40S as standard in a variety of lengths to suit customer specification. The ferrules can also be produced from ASME BPE compliant 316L stainless steel and a range of exotic materials including Hastelloy.