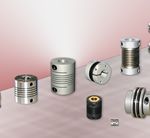 Davall Stock Gears announce the introduction of a range of miniature, flexible, and backlash free shaft couplings to compliment the existing range of product listed in their catalogue. These new couplings are particularly suited for low power, high-speed applications e.g. optical encoders, tacho generators etc.
The new range of product comprises 7 different styles of coupling.

1] electron beam welded stainless steel bellows
2] one piece helical
3] stainless steel disc
4] two piece tooth face
5] slit beam
6] wound spring
7] spider

Size for size the couplings can transmit high torque, backlash free, with very low moments of inertia. These couplings are maintenance free, with excellent resistance to oils and chemicals. These couplings can operate in elevated temperatures (approx. 150°C) All these flexible couplings will accommodate angular, radial and axial shaft misalignment. Careful selection of materials provides the couplings with a minimal "restoring" force (the coupling trying to straighten itself), which reduces the power absorbed by the coupling.