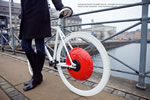 Due to their small dimensions, lightweight and excellent running accuracy, KAYDON® Reali-Slim bearings have proved to be the best solution for a high-tech bicycle wheel that is truly revolutionary. Known as the Copenhagen Wheel, the development enables a cyclist to store energy from braking and use it to provide an extra boost when overtaking or on tough gradients. Using sensors and a wireless connection to an iPhone on the handlebars, it can also monitor speed, direction, traffic conditions, as well as collect data on air pollution.

A joint project undertaken by the Massachusetts Institute of Technology (MIT) and Ducati Energia of Italy, the first goals of the Copenhagen Wheel are to promote cycling by extending the distance people can cover and making it a less exertive experience. Funded by the Italian Ministry of the Environment the wheel derives its name from the city of Copenhagen where it was unveiled last year at the UN Climate Conference.

The wheel uses a technology similar to the KERS system that has radically changed Formula One racing in recent years. "The bike contains all you need so that no sensors or additional electronics need to be added to the frame and an existing bike can be retrofitted with the blink of an eye," explained Professor Carlo Ratti, Director of the MIT Senseable City Lab. "When you pedal forward the motor supplements your torque. When you pedal backwards to brake, the motor starts regenerating electric energy while reducing your speed."

As space is very tight in the drive system Ducati Energia, the technical partner in the development of the wheel, chose KAYDON® Reali-Slim thin-section radial bearings for the prototype. The system features six bearings in four bore sizes ranging from 2 inches to 12 inches.

The Copenhagen Wheel is currently in the final prototyping phase and will go into production in June 2011, with a comparable price to that of a standard electric bike.

Although a unique project, this application is very typical for Reali-Slim®. This bearing has become the industry standard for applications where compactness and lightweight need to be matched by high performance. The complete range of KAYDON® bearings is available in the UK, Ireland and Scandinavia from the company's longstanding distributor, R. A. Rodriguez.