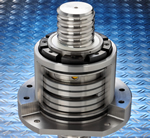 Kammerer introduces ball screws with a driven rotating nut. With its combination of high linear speeds and a long effective stroke, this ball screw concept is ideal for large machines with long axis lengths, such as large broaching machines, plastic injection moulding machines, lifting and assembly equipment for aircraft and rail vehicles and other hoisting and lifting machines.
The concept of a driven rotating nut offers many advantages: In combination with a steep pitch, it can achieve speeds of over 120 m/min. Under ideal conditions, rotating speeds of up to 4000 rpm are possible, allowing faster cycle times even for long axis lengths. Improved dynamics help increase productivity while the preloaded spindle system increases overall drivetrain rigidity, which eliminates the aspect of critical speed due to stretching. Cooling of the stationary spindle is easier and the nut housing can also be cooled. Spindles can be accelerated by as much as 30 m/s².

The drive is designed for ease of control and better dynamic behaviour when moving large masses. With a spring-biased spindle linear thermal expansion can be compensated without loss of spindle stretch. Versions with hybrid bearings and ceramic rollers for higher operating speeds are available. Kammerer's space-saving nut design allows the ball screws to be installed very near to the machine base, – on some spindles at a centre-axis height of only 100 mm from the floor – which minimises canting of the spindle bearing blocks due to spindle stretch.

Kammerer produces ball screw drives with driven rotating nut in sizes from 16 x 5 to 120 x 20. Its product portfolio includes ball screws, trapezoidal screw drives, sliding screw drives, screws and screw shafts, custom assemblies and complete systems as well as recirculating linear roller bearings and precision rolling guides.