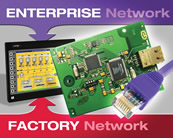 Red Lion Controls, Inc. announces increased functionality and flexibility for their popular G3 Series Operator Interface family, now available with the new Ethernet expansion card, G3ENET. G3 Series HMIs already provide one Ethernet port and now users can add a second Ethernet port to increase bandwidth and separate networks. In addition to supporting ten simultaneous Ethernet protocols, the G3 Series HMIs with the G3ENET card provide unprecedented communication with devices on two distinct Ethernet networks simultaneously—without the need for an industrial router—saving both cost and configuration time. The expansion card can be easily fitted to any G3 series HMI with only a single Ethernet port.
The G3ENET card is easily installed by using the supplied screws and a single cable, adding an additional 10 Base T/100 Base-Tx Ethernet port. The second Ethernet port gives users the option to isolate machine level networks from the enterprise network, which benefits both automation process engineers and IT managers. It enables the engineer to assign a fixed IP address for the port connected to PLCs and drives, while allowing the IT manager to either select their own IP address or use DHCP to configure the enterprise port—offering easy functionality for all operators.

"The addition of a second Ethernet port for communication on different networks is a first for dedicated HMI platforms," said Jesse Benefiel, Red Lion Product Manager. "Providing expanded flexibility, the G3ENET enhances the current robust platform and allows automation engineers to experience the latest advances in communication and standards with increased efficiency."

Red Lion's G3 Series HMIs provide complete data logging, remote monitoring and industry-leading serial communications, providing a comprehensive data management solution. With sophisticated features and the most on-board communication ports in the industry, the G3 Series HMI models now allow segregation of machine-network traffic from the plant-wide network with the G3ENET, delivering exceptional versatility and advanced data management technology.

G3 Series HMIs and the G3ENET card are easily configured with Red Lion's free Crimson® software. Crimson's drag-and-drop interface is an efficient, user-friendly technology that allows operators to set up control application devices, collect and log performance data, display data or trigger PLC functions.