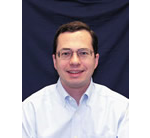 Red Lion Controls, Inc. is proud to announce the promotion of Lorin Grubb, M.S., Ph.D., to Lead Software Engineer. Dr. Grubb will be responsible for directing and managing the day-to-day activities for the software team. Additionally, he will be instrumental in the architectural development of and improvement to Crimson®, Red Lion's innovative configuration software. This user-friendly software platform is designed to program the company's comprehensive line of industrial control products, making it easier to design and implement attractive and powerful user interface solutions.
"Lorin's dedication and hard work has quickly become a valuable asset to our company," said Mike Granby, President of Red Lion Controls. "This promotion will provide the software team with a clear management hierarchy, enabling them to set performance benchmarks and continue making strides in Red Lion's ground-breaking software products." Granby adds, "In this new position, all software team members will report directly to Dr. Grubb regarding any Red Lion software initiatives."
Along with his Masters and Doctorate in Computer Science from Carnegie Mellon University, Dr. Grubb brings superior knowledge and skill to this new position through more than 15 years of experience in software development for industrial automation. Before joining Red Lion as a Software Engineer, Dr. Grubb held positions as Principal Software Engineer at Invensys and Senior Research Associate at Anderson Consulting.