The UK alone has 64,000 square kilometres of land under arable production, from which it harvests 16 million tonnes of wheat and barley a year, plus other arable crops such as corn, pulses, linseed and lavender.
All of this grain has to be transported from the farm where it is grown to processing plants where it is either cleaned and packaged or used in the production of a range of goods; most notably flour, but also other foodstuffs, oils etc. In fact there is so much grain being moved around the UK that it supports the building and operation of specialist trucks that are designed to optimise the handling processes.
Grain-based materials usually flow well and pack solidly, resulting in heavy loads. Therefore grain trucks must be able to cope with such loads, so should include, where possible, weight saving components to counterbalance the payload. Further they should use axles, steering and couplings designed to ensure the load remain stable when driving on unmade roads no matter how many potholes, puddles or other obstructions.
It is also almost inevitable that grains will also produce large quantities of dust, which can settle onto vehicles' components and subsystems. Thus heavy duty seals must be used on the tipper cylinder and other parts so that they are able to cope with the extra level of duty and provide reliable long term performance.
Modular axles
JOST manufactures a range of axle systems based on a modular design that allows the exact needs of most commercial vehicles, including grain trucks and trailers, to be met from a relatively small number of parts.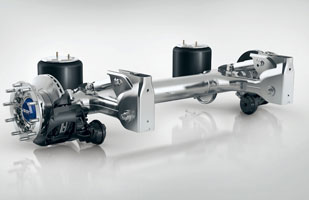 For trailer manufactures, this means axles can be developed that cover all ride heights and all standard trailer applications from one single axle system. For the vehicle operators there are many benefits, including a lightweight fabricated construction that permits an increase in the payload yet guarantees outstanding stability in all situations, plus the efficiency of one-stop servicing and therefore low cost of ownership throughout the life of the axle.
Specifically, JOST's DCA WEIGHTMASTER weighs as little as 381kg, depending on the chosen configuration, while its low component count and compact bearings, makes it ideal for use in the European transport industry. With its modular design, it is compatible with grain tippers and nearly all other trailer types.
JOST also supplies a range of brakes that integrate perfectly with the axles. Again advantages are gained through relatively lightweight construction, rationalised design across a range of products and in efficient straighforward servicing.
Offloading
Once a grain truck reaches its destination, it needs to offload its cargo and this is usually done through the use of a tipper mechanism that raises the dump bed so that the load slides out of the back and onto the ground or into a silo, hopper, or other storage vessel (or onto a conveyor which feeds the silo).
JOST makes a number of different tipping cylinders under its Edbro range. These are all built for the most demanding usage requirements yet are lightweight (allowing maximisation of payload). They are also designed to be fast acting so that offloading can be completed quickly and efficiently, allowing the vehicle to continue to its next duty.
Features found throughout the range include double lip seals and a five point sealing system. This configuration is particularly appropriate for dusty applications, such as grain handling, as it reduces contamination of the lubrication and thus improves oil life time while aiding long life and reliability of the whole tipping mechanism.
The tipping cylinders are built using one-piece long-life tubes, which are stronger and more reliable, yet usually lighter in weight than fabricated cylinders.
JOST can also supply full hydraulic kits and safety systems for the tipping mechanisms, once again bringing the benefits of one-stop servicing to the whole tipping system.