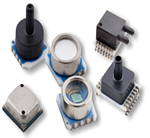 As part of its wide range of sensor products, Variohm EuroSensor supplies miniature altitude and barometric pressure modules from its distribution partner Measurement Specialities. The MEMS technology based modules feature a silicon micro-machined membrane with four implanted piezoresistors and are available as uncompensated sensor only components or surface mount analogue output devices, or as fully calibrated digital modules supplied in a variety of packaging and interconnection options. Applications range from mobile altimeter/barometer and weather monitoring systems to adventure watches, mobile navigation devices, variometers and dataloggers.
Recently launched digital module sensors from Measurement Specialities include the MS5607 calibrated micro altimeter with extremely low power consumption for cost critical high volume OEM products such as mobile personal navigation and smart phone embedded navigation devices. The high resolution sensor is supplied as a QFN package and has a measurement range of 10 to 200 mbar over -40ºC to +85ºC with an altitude resolution of 20 cm. The factory calibrated module has both SP1 and I2C bus interfaces and can be interfaced to virtually any microcontroller. The power consumption of typically 0.15 micro-amps at standby and the supply range of 1.8 to 3.6 VDC combine with a package size of just 5 mm x 5 mm x 1 mm to suit the latest generation of mobile devices.

Also available are the MS5803-01BA and MS5801-01BA digital modules which are intended for high-precision barometric compensation and altimeter devices. These factory-calibrated gel-filled digital output sensors feature a 24-bit resolution which translates to 0.012 bar with excellent long-term stability over an operating range of 10 to 1300 mbar at temperatures from -40ºC to +85ºC. The 58xx series have an altitude resolution of 10 cm and with very low power consumption are perfect for battery powered depth metering and altimeter applications.

Variohm EuroSensor provides complete pre-sale and post-sale application support for the Measurement Specialities range of pressure sensors and also designs, develops and sources a broad range of position, load, force, and other sensor technologies for demanding measurement applications throughout industry, agriculture, construction, autosports, and research.