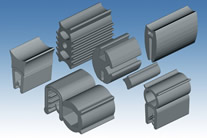 Everything but the Enclosure" specialists EMKA have recently greatly expanded the range of gasket profiles they have in their portfolio to nearly 500 different types. These moulded gaskets in EPDM, Neoprene, Black Nitrile and natural rubber include many popular specialist U.K. sections for automotive, marine, electrical, electronic, and telecoms/cabinet sealing.
The

Typical usage is foreseen as solid or hollow sections for edge protection, buffering or sealing against dust or water for doors or access panels (facilitating sealing potentially up to IP65). Profiles include wiping designs, fillers and flocked weather strips and supported sections with internal or flange structural support. Specialist considerations regarding shore hardness, tensile strength, recoil elasticity, abrasion resistance and climatic/chemical resistance can also be advised upon and allowed for in custom production. Further information on EMKA products and services may be found at: www.emka.co.uk, where it is also possible to download any part or the entire EMKA product catalogue.

EMKA sealing profiles incorporate a large number of stock sections and an extensive custom production capability. Many profiles are available as simple mouldings, but it is also possible to have sections moulded onto spring carriers even in small custom quantities.