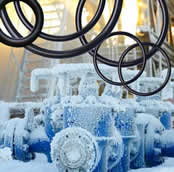 High performance chemically resistant Kalrez O-ring seals, which are now available from Dichtomatik Ltd, are rated for operation at temperatures down to -42°C. These products are the latest innovation in the DuPont Kalrez Spectrum perfluoroelastomer range, which has proven capability with over 1800 chemicals, solvents and aggressive fluids while combined with excellent sealing performance and elasticity for operation in freezing cold environments.
The Kalrez Spectrum 0040 material is suitable for performance at high altitudes and arctic latitudes, making them ideal for cutting edge operations taking place in some of the most hostile environments on the planet. This includes use in hydrocarbon processing equipment involving cold start-ups, hose couplings for chemical transport equipment, manhole seals for rail cars or wherever operating conditions down to -42°C may occur.

This new product development confirms the DuPont leadership in perfluoroelastomer technology, combining production expertise and control of the entire development process from the initial polymer to finished, high-performance sealing components. The -42°C rating of the Kalrez 0040 O ring seals represents a major sealing benefit for suppliers of equipment designated for operation at these temperature levels, as well as offering an excellent choice over less chemically resistant elastomers such as silicone or fluoroelastomers.

The upper service temperature limit for these products is 220°C, with an approximate volume swell of 10% when exposed to nitric acid for a duration of 168 hours. Compression-set resistance is similar to other Kalrez products in the range, which also incorporate the same high levels of chemically-resistant protection.