Sulzer focuses on delivering high quality, turnkey electromechanical solutions to end users of rotating equipment on short lead times. Operating as a fully independent service provider, Sulzer can support producers and repairers with its high voltage coil manufacturing capabilities, as well as its full motor and generator rewinding services.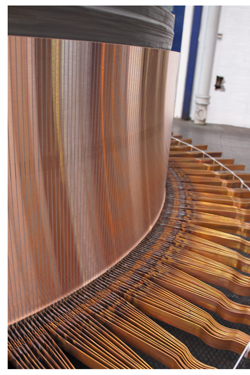 The motor and generator rewinding services offered by Sulzer can accommodate all variants of low to high voltage motors, whether AC or DC, almost regardless of size. Sulzer's global network of service centres offers end users a convenient localised maintenance facility for 24-hour support. Sulzer engineers are equally adept at delivering scheduled and unscheduled maintenance work, utilising equipment as well as their extensive experience. Repair services can offer a more economical alternative to a full replacement, so visitors are encouraged to talk to a Sulzer representative on stand for more information.
Highlights on the Sulzer stand will include a commutator, for which Sulzer offers full service support with an emphasis on providing precision maintenance to safeguard efficiency. Furthermore, in line with the family ethos of the convention, visitors can take a picture at the Sulzer selfie station, a fun way to share their experiences!
This year's EASA convention will build on decades of gathering delegates and exhibitors from around the world to engage and discuss the latest developments and trends shaping the industry. The convention will be held at the Tampa Convention Center, with thousands expected to take advantage of the forums, workshops and networking opportunities on offer.