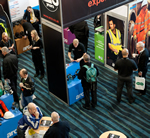 Health and Safety Midlands takes place at The National Motorcycle Museum in Birmingham on 12th and 13th September 2012. Opening the two day conference programme, which is independently authored by the British Safety Council, will be the Regional Director, Wales, Midlands and South West, HSE, Rosi Edwards.
Commenting on her presentation entitled 'What HSE is and isn't looking for from dutyholders', Rosi said, "I am looking to explain what the HSE is, and as importantly isn't, looking for in its interaction with people. Businesses need to concentrate on what is important for them to be successful and hopefully this seminar will help them focus on what matters from a health and safety standpoint."

Rosi's presentation will refer to the guidance issued by the 'Institute of Directors' in relation to the HSE and although the seminar is not just for Directors (it will also benefit health and safety professionals who want to communicate with directors) it does however discuss why Directors need to know what is happening in their business and how to gain this knowledge through honest and open communication with staff.

Another seminar that will address the latest concerns is 'Directors in the Dock-Could it be you?' which will be delivered by Chris Green the Lead Partner of Weightmans LLP. The seminar is aimed at all employers as well as health and safety practitioners and will cover enforcement and inspection of safety in the coalition era; charging for inspectors, common sense safety and the procedures for appealing enforcement notices. Chris said "I'm hoping to give employers a better insight on their duties and responsibilities when it comes to health and safety within the company and give them a heads up on what to look out for. The perception is that health and safety is being enforced disproportionately, judging by some of the recent media headlines. People are now less likely to volunteer to do a health and safety job due to this, and so with this seminar I'm hoping to straighten out any uncertainties an individual may have within their job role."

As well as the British Safety Council conference, there are other, more practical, seminars taking place at the event. For example visitors will be able to see the likes of 3M, with its presentation 'Are you fit enough?, A practical guide to fit testing and competency', and Ansell Occupational Healthcare with its presentation on 'Productivity & Comfort at work contradictory or complementary?'

In addition there are also two new exhibition areas planned for the Midlands event: the 'Cleaning & Hygiene Zone', aimed at providing the latest information for those, who as well as having safety responsibilities are also responsible for specifying and purchasing cleaning products and services; and the 'Live Demonstration Zone', offering visitors the chance to see up close how new product technologies can dramatically improve the safety of your workforce, improve worker comfort and therefore reduce costs and enhance productivity.

There is also a substantial exhibition where the leading product and service providers in the health and safety industry are exhibiting, and will be available to advise on the latest technology and business practices.

Health and Safety Midlands is free to enter and has free parking but it is highly recommend that visitors register in advance to facilitate speed of entry and for guaranteed seminar places as these are extremely popular. The full timetable of the conference programme for the 2-day event is now up on the event website.