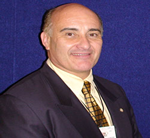 The Balver Zinn Group and Cobar Europe BV/Cobar Solder Products Inc. announce that the companies will sponsor the 4th Annual SMTAI Golf Tournament, scheduled to take place Thursday, October 20, 2011 at The Golf Club at Fossil Creek in Fort Worth, TX. The companies also will sponsor the Conference Pocket Guide for the upcoming SMTA International Conference & Exhibition, scheduled to take place October 18-19, 2011 at the Fort Worth Convention Center in Fort Worth, TX.
Stan Renals, Managing Director & CEO of the Cobar Division, commented, "We are so pleased to have the opportunity to once again sponsor such an important event in our industry. SMTAI is one of the industry's best technical conferences on electronics assembly and advanced packaging."

Now in its 27th year, the SMTA membership is an international network of professionals who build skills, share practical experience and develop solutions in electronics assembly technologies, including microsystems, emerging technologies and related business operations.

Established more than 35 years ago, Balver Zinn GmbH & Co. KG is a family owned and operated company. Today, it is among the leading providers of specialist anodes with various alloys as well as soft solders, special wires and fluxes developed by the Cobar manufacturing facility of Balver Zinn. All Balver Zinn products yield excellent results in the printed board industry and are used in electronics, solar and electrical engineering applications.

Cobar Solder Products is the U.S. division of the Balver Zinn/Cobar Group.