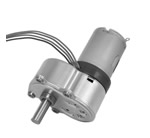 Rotalink takes a practical and unique approach to application solutions for miniature motors, mechatronics transmissions and controls which is exemplified in its design and manufacturing capabilities for customised assemblies used in parking and access control equipment. Like many miniature power transmission and actuator applications, motion component design for parking meter locking mechanisms, ticket transports, coin, cash and card handing systems, coin escrow units, and ticket guillotines are often characterised by the need for space efficiency, uncompromised reliability and competitive pricing.
Furthermore, the latest generation of parking equipment often employs solar and battery powered energy sources that call for highest levels of electrical and mechanical efficiency.

Rotalink's modular design methodology allows OEMs to choose from a wide range of geared motor technologies in flat (offset shaft) or in-line interfacing styles for output torque up to 10 Nm. The range covers entry-level to very high performance models that optimise torque-to-size ratio, efficiency and MTBF life ratings through the use of ultra-polymer spur and planetary gears in innovatively packaged designs. Absolute or incremental encoders can be integrated without adding significant length to the package size and a choice of DC brushed, brushless and stepper motor technologies along with drives and complete programmable motion controls can be provided. AC motors are also available.

Rotalink's solutions are designed to facilitate fast and straightforward assembly at the customer site or in the field, and typically include cables and connectors plus ancillary components such as pulleys or leadscrews as well as mechanical interfacing techniques.

With its comprehensive in-house design and production facilities, Rotalink is able to offer OEMs a partnered service that includes consultation, prototyping and product testing as well as flexible delivery programmes and many other value added supply attributes.

Typical parking industry equipment applications include Rotalink's 210 or 222 series miniature gearboxes, supplied as miniature high torque-to-size actuator solutions complete with long-life and low current brushed DC motors for maximum efficiency. Optional incremental or absolute encoder feedback is available, innovatively mounted between the motor shaft and gearbox for optimised space saving and maximum durability. The 210 and 222 series are just two of Rotalink's pioneering steel cased gearbox designs that combine spur and planetary gears in engineering polymers for cost competitive miniature power transmission solutions.