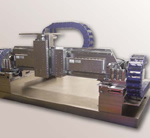 The integration of linear motors into existing production and evaluation systems frequently is fairly complex and time-consuming task. YASKAWA's new gantry system allows for simple, rapid integration into the manufacturing process, saving time, money and hassle. The plug-and-play all-in-one system meets all typical dynamic and precision requirements of customers in assembly, electronic PCB manufacturing, image processing and industrial automation. For the first time, YASKAWA will present its cartesian gantry systems at the Motek 2009 trade fair in Stuttgart, Germany.
YASKAWA designs and manufactures its gantry systems in Germany incorporating its own proven linear technology for ironless and iron core motors, servo amplifiers and machine controllers. Using well coordinated components from a single source ensures highest acceleration, speed and positioning accuracy values. For the customer, this translates into substantially faster positioning times and superior productivity. Due to the system's very high efficiency, ongoing energy costs are extremely low. What's more, the system requires virtually no maintenance, which further contributes to total life cycle cost savings.
When requirements go beyond the capabilities of standard gantry systems, YASKAWA will cooperate with its customers to design optimized solutions that perfectly match the target application.