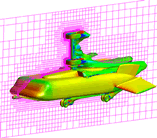 When a company claims to have solved a challenge that has bedeviled its industry for years, it must be ready to prove that its idea will really fly. And that, quite literally, is what Sikorsky Aircraft is prepared to do. A leader in the design and manufacture of advanced helicopters for commercial, industrial, and military use, Sikorsky has used new technology to help significantly improve the performance of the conventional coaxial rotor, a stacked pair of high-performance counter-rotating rotors. The company is now preparing to demonstrate its new coaxial rotor, known as X2 Technology™ demonstrator*, with the world of aviation as its audience. Sikorsky is also hard at work applying its X2 Technology solutions to practical aviation challenges, as it perfects conceptual designs of two military heavy lift aircraft that employ the suite of X2 Technology solutions.
T. A

To assess the highly sensitive area of the rotor hub and the pylon, which is the housing directly beneath the rotors, the team is using CFD methods that use high-resolution FLUENT meshes to achieve the highly accurate calculations that are necessary for even the most preliminary work on this area of the helicopter. While this accuracy is critical for the hub and pylon, it is too time consuming and expensive to be practical in the preliminary design of many other areas of the helicopter.

As Egolf and his colleagues assess the aerodynamic characteristics of the two conceptual X2 Technology aircraft , they're drawing on Harpoon, an automatic grid generation tool from Sharc, to help support and improve the design process. By combining Harpoon-generated grids with FLUENT, the team is studying the fuselage aerodynamics for the two conceptual X2 Technology aircraft.

"The value of Harpoon," says Egolf, "is that it provides a very quick grid adequate for the level of fidelity of prediction that we're interested in to support our preliminary design work. Harpoon has saved the engineering team considerable time and, as a result, money. "If the designer changes something," says Egolf, "we want to be able to regrid quickly—which Harpoon allows us to do—and get results in a timely manner so we can have an impact on our schedule."
lan Egolf, an engineer and Supervisor of Aerodynamic Methodology at Sikorsky, has worked with numerous coworkers on the effort to reengineer the conventional coaxial rotor. Egolf explains that "coaxial rotors have been in use for years and are currently manufactured by a few manufacturers." Although the basic concept of stacked rotors presents a number of important advantages over a single-rotor design, there are other challenges associated with coaxial rotor systems that have limited their use for high-speed applications.