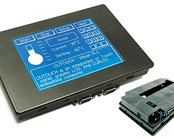 Audon Electronics now stock the CUTOUCH CT1721, an integrated Touch panel, 5.6 graphic LCD, and programmable embedded computer. Based on Comfile's PLC-on-a-chip technology, the CUTOUCH CT1721 provides fast processing speed, 82 digital I/O ports, 8 channels of 10-bit A/D, 6 x 16-bit PWM outputs, and 80KB Flash Program memory so you can quickly develop HMI devices for industrial machines, factory temperature controllers, packing machines, robots and embedded control.

Using the FREE Cubloc-Studio Software, the CUTOUCH CT1721 can be programmed in both Basic and/or Ladder Logic, allowing fast control, complex maths, dynamic touch-screen graphics, and fast data-communication protocols to be easily implemented. Ladder Logic, offers real-time sequential processing and Basic supplies the number-crunching power. Both the real-time processing powers of a MODBUS PLC and the 32-bit floating-point maths, graphic capabilities, and communication powers of Basic are now available in one product.

The free CuCanvas software can be used to draw graphics such as boxes, circles, and menu buttons with keypads. These simple graphics can be made to animate, say to show the rise and fall of liquid in a tank for example. For more complex graphics PixelStudio software allows the user to create up to 200 custom images.

The CUTOUCH CT1721 has 82 digital I/O ports with a mix of 32 opto-isolated inputs, 32 transistor outputs and 17 5V TTL I/O. A range of expansion modules are available giving mains relay outputs, motor control, Compact Flash data memory storage and wireless Bluetooth interfaces. Using an optional XPORT internet module, TCP or UDP packets can be monitored through the internet from anywhere, allowing users to update or provide customer service for products located anywhere in the world.

The CUTOUCH CT1721 has 80KB Flash Memory for Basic and Ladder programs, 28KB for data memory, a Real Time Clock, and one of the two RS232 serial ports can be used for download and debug. With 8 channels of 10-bit analgue input and 6 channels of 16 bit Pulse Width Modulated output, the CUTOUCH CT1721 is ready-made for lots of industrial applications. An internal battery provides safe data backup.

MODBUS Master and slave support is also included, making the CUTOUCH CT1721 ideal for customized industrial use.

A stater kit is available that includes the CT1721 controller, a paper manual, all software on a CD, interface cables and RS232 programming cable all for under £250.