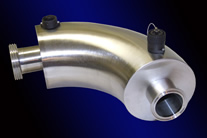 A joint venture operation between Norward Process, specialists in the production of high purity process pipework, and Inditherm Industrial with expertise in the provision of heating solutions, has led to the production of quality heated pipework systems for the pharmaceutical, food, beverage, confectionary and chemical industries.
The Norward Process pipework products can now be fitted with Inditherm Conductive Polymer Technology (CPT) heating. This is a unique carbon based flexible polymer that generates uniform heat over the entire surface area. This includes up to the cut edges, eliminating both cold spots and localised overheating. The heat is generated via a low voltage supply which is both safe and efficient, while providing maximum economy of operation for plant operators.

The flexible heating mat can be easily wrapped around pipework as well as being cut to shape for use on associated equipment including valves or pumps etc. It is held in position with insulation which itself is banded on the outside. However, where required for use in hygienic conditions subject to water-jet cleaning, insulated heated pipework can alternatively be clad with an outer metal sheath. This is high grade stainless steel, without seams or rivets, produced to standards that complement the Norward purity pipework. Ends are capped with stainless steel, with hygienic end fittings used to interconnect between pipework while maintaining integrity of the inner pipework joint seals, as well as providing an external seal against water/dirt ingress. External links are also used at the joints for the low voltage power supply, so retaining continuity of the heating process.

The Inditherm Conductive Polymer Technology heating systems can be used to replace traditional technologies of jacketed hot water or electrical trace heating. It provides temperature control to ±1°C, ideal for a multitude of process industry requirements from basic frost protection to product melt-out. Heating management is achieved via either fixed or variable control systems including temperature monitoring and low temperature warning systems. More sophisticated centralised control systems can also be supplied incorporating PLC's and 4-20mA outputs, with full monitoring touch screen technology featuring both the display and control of temperature, also available.

The high purity process pipework is manufactured using the very latest automated orbital welding techniques, with optional internal surface treatments including passivation and electro polishing. Only the highest grades of stainless steel or other specialist materials are used, with finished products conforming to ASME BPE 2000 specifications, and also complying with MCA and FDA standards.