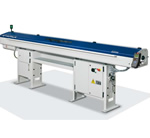 High performance, flexibility and reliability are key features of IEMCA's new Elite bar feeders, available in the UK through 1st Machine Tool Accessories. The most compact on the market for feeding bar up to 3.7 metres, the unit is over one metre shorter than some other manufacturers' models and is available in two versions, designated 112 and 220. Maximum feed and return speeds are 1,000 and 1,600 mm/s respectively, ensuring high levels of productivity.
Aimed at high precision micro-mechanical industries, the Elite 112 is ideal for use with stock from 12.7 mm diameter right down to 0.8 mm, even on lathes with very high spindle speeds and headstock accelerations.

Fast, accurate operation is achieved through the use of closed, calibrated, round section channels combined with high speed rotation.

In addition, the development of custom-engineered, low inertia components allows precise synchronisation with all types of machine headstock, including those actuated by linear motors.

Elite 112 has capacity for 28 bars which can be loaded in 26 seconds. The material magazine features a stepping action that ensures reliable operation with small diameter raw material and the unit's purpose-designed, snap-in guide channels enable changeover times as short as four minutes.

A library of default settings, accessed through the Elite 112's control panel, means that no adjustments are normally required during the equipment's long and productive service life.

Two magazines in one

Quiet in operation, the Elite 220 bar magazine has been introduced in response to the growing needs of the medical and other small precision parts manufacturing industries. The bar feeder, which is designed for sliding headstock mill-turning applications using bar in the diameter range 2 mm to 23 mm, performs without any limitations to lathe operation.

Excellent small-diameter bar handling is achieved using a walking beam magazine, ideal for stock diameters from 2 mm to 6 mm, but the user can switch to gravity feed for larger diameters in under two minutes. It is noteworthy that the bar feeder can be configured with one type of magazine or both, according to customer requirement.

The unit features a redesigned bar pusher with dual bearings to complement high performance Swiss-type machines with rapid accelerations and rotational speeds up to 20,000 rpm. A vibration-damping bush holding device supports the rotating bar.

Another advantage of the Elite 220 is that job set-up values can be stored in a library in the control to be reused for quick changeover when running repeat jobs.