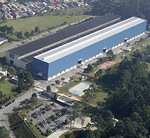 WEG has been honoured with an award in the Top Companies for Leaders study 2011. The award, presented annually by Aon Hewitt, the global leader in human capital consulting and outsourcing solutions, is recognition of the individual and teamwork efforts of WEG personnel in promoting the WEG brand, and of taking the company to a position of global leadership development and success.
Initiated in 2001 by Hewitt Associates (now Aon Hewitt), the Top Companies for Leaders is the world's most comprehensive measurement study of leadership and leadership practices. Recognised for its global scope and research rigor, the study attracts hundreds of companies around the globe that seek insights into aspects such as leader building, and how best to develop and sustain the leadership pipeline. In addition, the study also focuses on hiring, coaching, developing leadership and rewarding success.

The 2011 award is the second Top Companies for Leaders honour for WEG; the first being in 2009. On this occasion, WEG was ranked fourth in the Latin American category, together with Natura, AmBev (Brasil), Bancolombia (Colombia) and Walmart de México e Centroamérica (México).