Rockwell Automation
Rockwell Automation had a whole table of new products and solutions on show including a new controller, the CompactLogix 5480, which is designed to close the gap and take machines to the next level. Of course this contributes to digital transformation which everyone is either undergoing or preparing for.
The company also spoke about its strategic partnership with PTC, that was announced last year. Vincenzo Monaco commented: "We want to show that from the beginning, we are here for the whole journey, and will engineer the whole product lifecycle. With RFID technology we are now able to make simulations on the machines and show customers what they can do without huge costs."
The approach Rockwell Automation seem to be taking is transforming itself from a components seller to a complete solution provider. Monaco said: "We want to provide the full cycle for the customer, and always try and close the gap. We get a better response with partnerships, they seem to work really well for the customer, and that is what we're all about."
He added: "We're not just a general provider of components, Rockwell Automation is now an innovative company with machines which means we can be more effective in the market, and help customers worldwide."
Digital transformation was a key factor in this year's Rockwell Automation presence at SPS. Monaco explained the last three years has really seen the trend in digitalising take off for customers. "There is a lot to think about when it comes to digital transformation, we see some companies starting to act upon it, and some really keen to jump in that just aren't ready for it yet. You need to build up the right approach, and our job is to help customers do that."
Finally, Factory Talk Logistics AI was another new feature for Rockwell Automation, expanding its approach in the process industry. With Factory Talk Logistics you get more technology functionality and the business has introduced more AI to complement the solution. Monaco said: "With this we can now see on the application what is needed and build it up on our system through AI. This gives the benefit of the ready function which essentially equates to less programming, and less time wasted." Rockwell Automation believes this is a growing area to help customers through AI.
It is a big trend in the market from an end users point of view, as companies are beginning to set up production in different countries and regions where sometimes there aren't the skilled workers needed. Rockwell Automation's new smart lens, part of the Factory Talk Logistics, helps to show these workers how to change and programme machines. This type of training is all done digitally to allow more seamless integration.
Kontron
Kontron was at the show explaining more about the latest feature of it's SusieTec solution and give an overview of the company's S+T business model.
One announcement for the company was adding the new KBox C-103-CFL series to its industrial computer family. The high-end industrial computers in Box PC format are based on the latest Intel Core and Intel Xeon E processors of the ninth generation with up to six processor cores which provide an enormous performance boost with ever constant power dissipation.
All systems of the KBox C-103-CFL family are specifically designed for use in control cabinets in automation environments. In addition to the control and visualisation of machines or inspection and AI-based vision applications, Soft-PLC applications can also be implemented using the optional NVRAM and the integration of fieldbus extensions.
Kontron works across a number of industries and speaking to Norbert Hauser, Vice President of Marketing, he explained: "We do work with the automotive industry, and that is an interesting space right now, as it is under a lot of pressure. There are massive changes occurring on the traditional assembly floor to accommodate for e-mobility. The future is all about flexibility and the change of speed that production in the auto industry needs to work at."
Also new for Kontron this year is the Kontron Motherboard 'Designed by Fujitsu', as the company is committed to the future of Fujitsu motherboards, made in Germany based on the latest Intel platforms.
The Designed by Fujitsu Motherboards include the form factors (Thin) Mini-ITX, µATX, Mini-STX, and ATX, and are based on Intel Coffee-Lake platform and, with an extensive BIOS update, enable the use of the new 9th generation Intel processors based on the proven Fujitsu design.
This benefits customers with the advantage of deploying the latest processors directly and without any hardware replacements.
Delta Line
This year is a special year for Delta Line as it is introducing a brand new E&D, electronics and drives range, as a part of a new positioning strategy as a manufacturer of motion systems. The E&D products include a new brushless DC motor range with an integrated driver - all intelligent and all programmable.
The strategy actually began back in 2008, when the company bought a distributor company, which is still a part of Delta Line, and these products are still available today. But with one foot in the production area the company felt the demand of customers to sell more systems. Andrea Malgorani, Product Manager said: "They wanted more drivers, so our goal become to attract more customers from lower companies with a driver for a stepper machine." But also customers had other more specialist requests.
Delta Line is very flexible with its electronics for stepper motors, and brushless motors for the integrated motor. One of its newer products at the show was the one axis stepper motor, but of course the big thing this year was introducing the driver, Malgorani said: "It's been a big step for us this year, no pun intended. It has been a huge investment for us, and we plan to see much more production of the integrated driver."
It's about adding value for the customer with Delta Line, Malgorani said: "Instead of thinking about the money and time, we are prioritising the value with software solutions which is what the customer really wants. We are constantly bringing new things to the industry for automation and Industry 4.0. We need to be and are, constantly thinking ahead."
The stand-out element for Delta Line was the variety and range in the product offerings. Delta Line was showing its new BLDC FLAT Motor Integrated GMI – Encoder; a compact, flat and scalable geometry that can be integrated in a wide variety of motors, but also had on show its low-cost brushless DC motors that attract customers due to its low cost.
LEM
LEM had two new products to announce at the show, as it has completed its surface mounted high isolated current sensors range with an included current conductor.
Expanding its range of miniature integrated circuit sensors range for AC and DC isolated-current measurement, LEM took the opportunity to discuss its new HMSR series. Stephane Rollier, Product Manager at LEM explained that although they are small, these components should not be underestimated. "They can handle overload current bursts of up to 20kA, such as those that occur in photovoltaics applications, while still providing reinforced isolation."
The HMSR series uses a proprietary Open Loop Hall effect ASIC associated with a unique low-resistance primary conductor to minimise power losses, allowing direct current measurement and high transient overload currents to pass without damage. The use of a ferrite for the magnetic element is a key factor in achieving a high frequency bandwidth of 270kHz (-3dB) and to provide good rejection against external fields.
The mechanical design for the sensor leads to creepage and clearance distances of 8mm using materials with a comparative tracking index (CTI) of 600, to meet reinforced isolation according to the IEC 60950-1 standard.
The other new launch for LEM was the ARU Rogowski coil designed specifically for outdoor installation, which follows on nicely from its ART Rogowski coil that was for indoor applications, very similar but more ruggedised – perfect for substations, grid monitoring, medium voltage automation, protection and safety - essentially anything outside.
The new Rogowski coils range measure current up to 300,000A AC with accuracy class 0.5. The ARU range achieves IEC 61869-10 class 0.5 without the need for additional components such as resistors or potentiometers to calibrate the coil, which can drift over time.
The range benefits from 'Perfect Loop' technology, a unique patented coil clasp that eliminates the inaccuracy caused by sensitivity to the position of the conductor inside the loop. This technology provides an innovative, robust and fast 'Twist and Click' closure.
Altra Industrial Motion
Altra Industrial Motion a specialist in electromagnetic braking applications, had a few new products to showcase at SPS this year, including the CBTB family of electromechanical axle brakes which are specifically designed for use on electric powered, dual drive vehicles with capacities normally up to eight tonnes.
The company has created this family of advanced high-speed, high-torque brakes that provide reliable emergency and parking brake functionality and allow for increased maximum vehicle speed and improved productivity.
By integrating a non-stick friction material within a superior brake design it ensures very high energy dissipation and low wear throughout the life of the vehicle.
Speaking to Mathieu Ruault, VP of Sales and Marketing Development, he said: "We are fuelled by the voice of the customer, and tackle issues faced by users. We are the only brake manufacturer to develop our own non-stick friction material, which makes us unique. We listen to the market trends and the users, we are not just another shelf company – we fit specific market needs."
Belden
Belden specialists when it comes to TSN had their 'wall' on show after a big year of transformation for the company. The wall illustrates what Belden can offer in terms of manufacturing, but also to any industry that use industrial networks.
The Belden application wall, was also highlighting it's vision when it comes to the future of industrial communication networks with multiple real applications - not just theoretical constructs. At SPS Belden clearly demonstrated how it can deliver connectivity solutions to aid in leveraging benefits of increased network availability and dependability, all whilst adapting to new and changing technologies. If anyone could take a step to looking into the future, my money would be on Belden.
Speaking to Vinod Rana, Director Technical Services EMEA, he explained: "It's an evolution not a revolution, this transformation journey is something we are on with our customers."
When a customer looks for a network solution, the answer is to traffic all possible data from the field to the cloud. Rana said: "Humans don't communicate over networks devices do, this is also why the integration of cyber security is so important, otherwise we are vulnerable. Threats can be internal and external – even human error can be a threat."
The thing that makes Belden stand out is the fact that it doesn't focus on selling a product, it sells the solution. "At the end of the day we want to find the network that fits businesses best," Rana added.
Getting into more of the specifics, Belden had a few new products on show including the Hirschmann EAGLE40 Next Generation Industrial Firewall, which offers a comprehensive cyber security solution ensuring that up-time is maximised in automated environments in a ruggedised way. The EAGLE40 Industrial Firewall also ensures there is more increased bandwidth and encryption capabilities.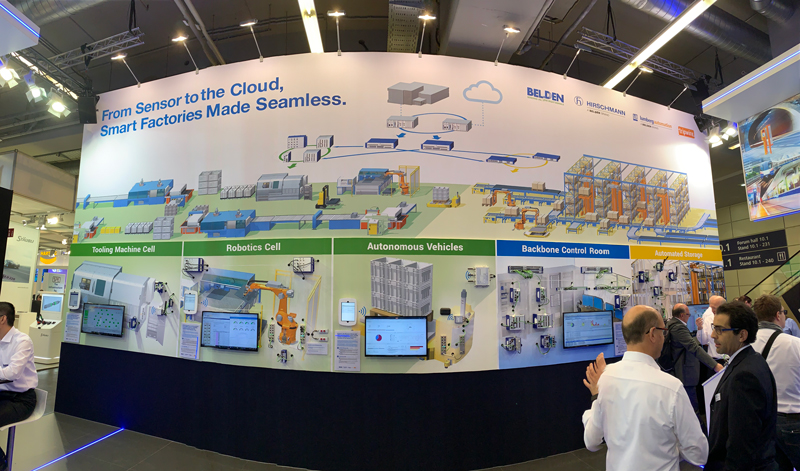 Mitsubishi Electric
Mitsubishi Electric had two announcements to make at SPS this year. The first was its strategy around Industry 4.0 and the OT/IT integration, and the second was in its robotics area.
From an IT perspective, Mitsubishi Electric has announced a new version of its Edge Controller which uses AI technology to contextualise the OT layer to the IT layer. It also includes horizontal integration to share and send data. To facilitate this horizontal integration Mitsubishi Electric have also created its own TSN network.
In terms of robotics, the company has traditionally been known for industrial robots, but now has started to launch more collaborative robots. With more precision and accuracy, Mitsubishi has taken parts of industrial robots that work best to enhance performance. Now standard industrial robots can work in collaborative conditions.
Delta
Delta presented the new integrated engineering software, DIAStudio Smart Machine Suite, along with a broad range of advanced automation products. The DIAStudio Smart Machine Suite provides an all-in-one platform for selecting models, programming (IEC61131-3 standard), and setting up PLCs, HMIs, drives, and more to enable effective, time-efficient machine system development.
In addition to this new software, Delta also exhibited its industrial power supplies and automation products, including the new DMV3000G-series machine vision system which supports up to two cameras with GigE interfaces for precise colour, shape, position inspection, quality assurance, and other critical tasks for smart equipment and production lines.
"We are unveiling this new software suite that is going to save users mountains of time designing automation systems in factory settings all over the world. The great thing about the DIAStudio software is that it puts detailed technical information on Delta products right at the engineer´s fingertips and allows them to use it seamlessly in the engineering process. You can literally click together the desired Delta products and their parameters, then send all that data on to your CAD software. We´re also exhibiting our line of cutting-edge machine vision products that are used on production lines in conjunction with robots," said Patrik Hug, Senior Director of Industrial Automation for Delta in Europe, Middle East, and Africa (EMEA).
The DIAStudio Smart Machine Suite is an all-in-one engineering software designed to save time and simplify the machine setup process. Tasks such as product selection (including Delta HMIs, PLCs, servo drives, and AC motor drives), PLC programming, quantitative parameter setting, machine tuning, and HMI integration can all be executed seamlessly with the following DIAStudio tools:
DIASelector is an application for PCs and Android mobile devices that allows the user to select specific components of the machine system.
DIADesigner picks up after a few intermediate steps in the engineering process have been completed.
DIAScreen then lets users share tags between PLCs and HMIs or text panels to complete the operation interface.
EtherCAT
EtherCAT had the announcement of EtherCAT G in the context of the ETG (EtherCAT Tech Group). EtherCAT at 100Mb/s is still the fastest industrial communication system, the performance isn't in question here. However, there are some applications that have an extra ordinary high bandwidth demand of >100Mb/s – for example measurement applications with very high rates of over sampling, or just huge applications.
The ETG now plan to expand the application range by introducing Gigabit speed. EtherCAT G is essentially EtherCAT on steroids, it's just the same but on a higher bandwidth, scaled up so it's less effort for the customer. "It's not a new version just an enhancement, which means it's now a more seamless integration, with a range of products that won't need to be touched."
ADI
Analog Devices is in a very exciting space right now and at the show announced thelaunch of an industry-first portfolio of Industrial Ethernet solutions which address the communication challenges within Industry 4.0, smart factories and of course digital transformation. The Analog Devices Chronus family of Industrial Ethernet solutions for intelligent industrial connectivity is there to help support visions of future factories.
This industry-first portfolio of software and hardware offers for best-in-class connectivity solutions, and is all about time and synchronisation. Maurice O'Brien, ADI Marketing Manager explained: "It represents the Ethernet portfolio on industrial automation and it stands for deterministic, robust, scalable, flexible and complete solutions that are future-proof for TSN."
When it comes to TSN O'Brien said the industry is still not quite there yet. "Here at Analog Devices we see it like a toolbox with different functions. We know how it should and will look, so we can be prepared and be TSN ready. Customers are interested in implementing TSN, and they don't want to have to change systems, just add to them – that's our goal."
Emerson
Finally, industrial manufacturing with a focus on automation is Emerson's area and at SPS were showing how its intelligent devices, edge controllers and digital plant architectures enable improved plant reliability and availability, and comprehensive manufacturing control and production optimisation.
Manufacturers need to maximise the performance of their plant, increase availability and reduce operational costs to remain competitive. Unexpected down-time, a reduction in production performance and availability, and higher maintenance costs impacts profitability. With Emerson, end users will be able to expand operations and supply chain control — the process of manufacturing goods all the way through to assembly and packaging.
Speaking to one of the experts they explained: "Companies need to understand every step of the automation journey, and Emerson does everything under one roof. Pneumatics are important for the creator to know what's happening and visualise connection to the controller, this gives the operator the chance to increase opportunities. Similarly, the sensors are important, as they measure essentially everything. Then finally the wireless controllers – still quite new in this field but are being adapted well."
The factory level, and the measurement – sensor level, both need control systems and need to monitor what is happening. Today there are not enough factories becoming smart. Around 80% of factories in Europe are not automated. You still need to get the most efficiency from your assets. Yes, you can see the data, but you need to be able to analyse it for it to be beneficial, as only then can you predict failures.