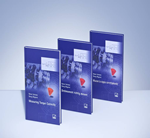 HBM technical experts, Rainer Schicker and Dr Georg Wegener, have written a 272-page reference book, "Measuring Torque Correctly" available on-line that gives a clear overview of all essential aspects of using torque transducers. Available in German, English and Italian, the book is clearly laid out and easy to understand
The accurate measurement of torque has become increasingly important as it leads to the optimization, development and improved quality assurance of machines, vehicle parts and other rotating components. Without a clear understanding of torque and the importance of rotational speed measurement, the ability to reduce CO2 emissions is impaired. Ultimately, improvements in mechanical performance lead to improved efficiency and reduced consumption thus protecting the environment.

The book describes principle options for torque measurement and deals with the design and application of torque transducers most commonly used today. The principal methods for measuring torque are described along with a wealth of information on how to address and solve problems arising in everyday applications. The comprehensive information makes this book of interest to all users. Detailed theoretical debates are avoided and the appendix comprises a brief outline of vibration engineering along with valuable additional information.

HBM is the global market leader in torque measurement, with more than sixty years of experience in measuring mechanical quantities.