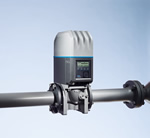 SICK is launching the world's first ultrasonic flow meter for industrial & commercial metering, the FLOWSIC500, which promises to achieve new levels of precision measurement in gas metering for commercial, industrial, power and utility users. With no moving parts, the SICK FLOWSIC500 promises long term stability, ease of installation and minimal maintenance compared to conventional mechanical meters.
The meter is expected to be especially beneficial to critical applications such as continuous industrial processes, power stations and hospitals, where supply interruptions would be hazardous or costly.

The FLOWSIC500 will form the centrepiece of the SICK UK stand at the Institution of Gas Engineers and Managers' Gas Metering Seminar in Kegworth, Derbyshire on April 23 2013. Says Andrew Wrath, Product Specialist for Sick UK:

"We are very excited about the launch of the FLOWSIC500, because it truly represents a step-change for industrial gas flow meters. This ultrasonic technology offers many advantages for both the installer and the asset owner with much simpler installation and hardly any maintenance requirements. Ultrasound technology, already widely used for high pressure measurement in the National Trasmission System is now available for low pressure and gas distribution flow metering."

The ultrasonic meter can be installed in any orientation without the need for inlet/outlet pipe runs and can also be fitted as a straight replacement for conventional technology (such as turbine and rotary displacement meters). The integrated volume corrector also saves installation space and cost compared to conventional meters.

The Sick FLOWSIC500 is virtually maintenance and wear-free. Replacement and recalibration of the ultrasound cartridge is quick and easy, ensuring minimal downtime. The new meter is self monitoring, using in-built diagnostics, including self-checking set-points and alarms to protect against drift and accuracy variations over time.

The SICK FLOWSIC500 offers optional integrated volume correction under, in built data logging and a range of interface options. It can be used in hazardous zones and the 5/10 year battery back-up option ensures continued operation even in the event of a power supply failure.