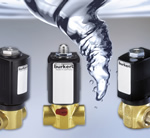 Bürkert's new Type 6027 modular range of general purpose solenoid valves is designed for use with vacuum, neutral gases, fluids (compressed air, water, hydraulic oil) and slightly aggressive media, at pressures up to 16bar. The range comprises three modules Mini, Small and Compact that can be combined to allow multiple variations of functions, temperature ranges, coil ratings, chemical resistance and approvals. This simplifies valve selection for the user, providing the benefits of standardisation and a virtually unlimited combination of valve options
The Type 6027 is a direct-acting (2/2 & 3/2 NO and NC) range of solenoid valves for shut-off, dosing, filling and ventilating tasks; and also for vacuum applications. Manufactured with brass or stainless steel (316L) bodies and available with G1/8, G1/4 ports and sub-base connections, the 6027 valves are designed for gas handling, steam and water treatment applications. However, the valves are general purpose types and can be used in all types of applications where the controlled media is not aggressive.

The 6027 series combines higher performance, with reduced energy consumption, resulting in lower costs for the user. This is achieved by using the latest coil technology, and by integrating boosters that are extremely compact in design.

The use of booster electronics offers several advantages. First, enhanced performance, due to the ability to switch higher pressures. Second, the technology provides energy saving via low wattage operation. Third, integrated diagnostic functions for fast fault detection. Fourth, the micro- size of the boosters delivers one of the most compact fluidic solutions for high flow rates. This feature is complemented by the overall design of the push-over solenoid coil system; the modular design offering the flexibility for individual valve mounting, or as a block on a multiple manifold.

In addition to optimising the operating costs of an installation, the transparent structure of the 6027 range offers planning-related benefits. The modular system enables the user to select, quickly & easily the right combination of coil and housing to meet the exact performance characteristics of a system.

In addition to its comprehensive standard specification, the 6027 range can be tailored to specific user requirements to provide customised solutions. This could be in respect of housing materials: stainless steel or brass; selection of electrical connections - via DIN plugs or cables; adaptation of technical connections through the use of different subbase housings; alternative coil and seal materials; and non standard port connections and voltages. In addition, Burkert also offers a comprehensive range of complementary high-performance components which can systemise the Type 6027 valves for fast integration into machines and manifolds.

The 6027 series consists of three construction sizes: Mini AC07 coil (20 mm), Small AC10 coil (32 and 40 mm) and Compact AC19 coil (42 mm). The coils are IP65-rated (with cable plug); they are suitable for use on 24 V DC, 24V/50 Hz, 230V/50 Hz supplies and operate in the temperature range -10° to +180°C.