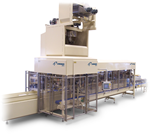 Chronos BTH is recognised worldwide for its customised and innovative weighing, bagging, baling, palletising and load securing solutions for various industries. We offer manual, semi-automatic, fully automated or turnkey solutions for bagging bulk materials in the Food, Feed, Chemicals, Minerals and Horticulture industries. Our BAGGING portfolio includes open-mouth bagging systems, valve bagging systems, horizontal and vertical FFS systems and filling systems for flexible and rigid containers.
Chronos BTH is a single point of contact for all of its customer's packaging and material handling needs. Each piece of equipment is designed, manufactured and integrated in-house.

Merger and acquisitions by PREMIER TECH have combined the companies Chronos Richardson, BTH, Richard Simon, Howe Richardson, FORBERG into today's Chronos BTH, which brings together more than a century of technical innovation, application experience and expertise. Chronos BTH is one of the world's leading manufacturers of packaging solutions in the field of Industrial Flexible Packaging.

The Chronos BTH stand will feature graphic and video displays to illustrate its diverse product portfolio and this will include their OML BF Series of Bottom-Up Filling Systems for hygienic open-mouth bagging applications of powders. The machine has been specifically designed for hygienic bagging and packaging operations for the Dairy, Bakery, Baby Food and other Food related industries. The system is also suitable for the Pharmaceutical and Chemical industries.