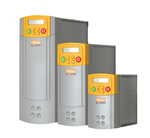 Parker Hannifin has launched a new family of revolutionary AC drives that allow energy efficient permanent magnet motors to be used in a wide range of pump, fan and compressor applications. Designated the AC650S Series, the new drives eliminate the need to run permanent magnet motors with closed loop speed sensors, enabling them to be used as replacements for induction motors, helping manufacturers improve both performance and profitability.
Using the AC650S Drives to switch from induction to permanent magnet motors can cut energy consumption by up to 12% while reducing the combined drive and motor envelope by as much as 75%.

To date, permanent magnet motors have not been widely used in many industrial applications as they require additional speed or position sensing mechanisms and control by high end drive units, making them relatively costly and complicated to install. As a result, even though they are less efficient and considerably larger in size, induction motors have generally been the preferred choice for design and production engineers.

Now, however, by using innovative algorithm control based on motor voltage and current output, the new AC650S Drive enables standard permanent magnet motors to be used in closed loop applications, without the need for additional sensors. Engineers can therefore benefit from the energy savings that can be achieved from brushless motor such as Parker's NX and ATEX EX Series, with savings of up to 12% for a 0.75kW system being possible; similarly, engineers have the opportunity to design more compact control systems, which can be as small as 25% the size of a conventional induction motor assembly.