Last year a new pipeline was installed between the two sites – using a 'trenchless' laying method to minimise disruption. At Royton, extra storm storage capacity is to be built to better cope with heavy rainfall and disused equipment is being removed or demolished.
Designed, built and manufactured in Dewsbury by A&J Fabtech, the new scraper bridges form part of a £56m scheme that will see primary treatment consolidated at Oldham, while the nearby Royton works will be converted for secondary and tertiary operations. The project is being managed by Black & Veatch, a global engineering company specialising in infrastructure development.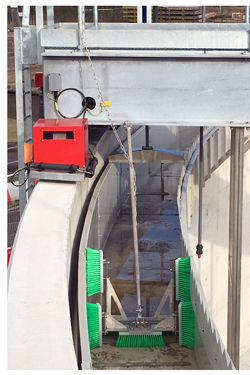 Each giant bridge is 46m long and incorporates final settlement tanks, energy dissipating water inlets, glass reinforced plastic (GRP) weir plates and drop boxes. To ensure reliable operation, even under extreme conditions, each bridge has a dual drive system complete with torque protection and loss of rotation sensors, halogen heaters and snow ploughs.
The new equipment and processes at Oldham will remove ammonia from the waste, thus reducing corrosion, increasing the lifespan of the plant, improving local river water quality, and providing better service and value for money. Old structures will be demolished and unused equipment removed prior to re-landscaping of the site.
The bridges were installed in sequence over a period of about six months. They were built at A&J Fabtech's manufacturing and fabrication facility, which at over 60m long and equipped with twin 20 tonne overhead cranes, was easily able to accommodate the bridges.
When complete, the new treatment processes will meet higher standards for wastewater management. They will also breathe renewed life into the River Irk and its tributaries, as the water put back into them will be cleaner, thus helping to improve the natural environment of the river, supporting more wildlife and enhancing the overall ecology.
The project will also include upgrading the power, control and monitoring systems to full automation. This will include remote access, performance monitoring and visualisation of all processes. In future personnel will only need to visit the site for maintenance and repair operations.
A&J Fabtech has over 40 years' experience of similar work and has previously supplied bridges to over 300 wastewater treatment works.