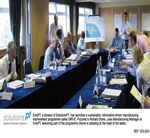 EmsPT, a division of SolutionsPT, has launched a sustainable, information-driven manufacturing improvement programme called DRIVE . The service will help companies reach specific manufacturing performance goals and improve upon them over a long period. It is intended to combat the lapse in success which often follows the early, 'easy and obvious gain' period of a traditional process improvement programme.
DRIVE, which stands for Discover, ROI (Return in Investment), Implement, Value and Enable, combats the inherent difficulty in sustaining improvements as problems become harder to identify. The programme uses a series of consultative workshops focusing on the manufacturer goals and success criteria rather than product and sales presentations.

During the Discover phase of the programme EmsPT works with the manufacturer to help identify goals and success criteria. These can range from releasing additional production capacity to deploying a unified benchmarking solution.
When the Discover stage is complete, the ROI phase predicts a return on investment by projecting the sum of savings over time and showing where their comparison to cost breaks the time line.

The Implementation phase ensures that appropriate automated data acquisition technology is in place and that it's being managed by the right team using appropriate methodology with long term support. The solution is designed to give the manufacturer the capabilities to meet their success criteria taking into account the needs of operations to senior management.

"The Value phase of DRIVE is probably the most crucial," explained Richard Stone, Lean Manufacturing Manager at EmsPT. "During this period customers begin to see beneficial use, which is crucial for believability and overall buy-in. This is also the phase where we can identify additional value that can be added by identifying waste in the production process and further opportunities for improvement."

The Enable and Evaluation phases of DRIVE ensure that internal company sponsors and champions are focussed on, and authorised to make, the changes that are recommended. This can sometimes involve EmsPT joining the client team to assist in creating an appropriate environment.

"DRIVE isn't just a branded initiative with a snappy title," explained Stone. "It's the culmination and expression of a philosophy that has been ingrained in our service and company culture for a long time. It's based on hundreds of thousands of hours of experience and is proven to work," he concluded.