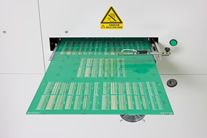 Juki Corporation, a world-leading provider of automated assembly products and systems, announces that it has been awarded a Global Technology Award in the category of Placement Equipment-Low/Medium Volume for its JX-100LED. The award was presented to Bob Black, President and CEO, during a Tuesday, October 26, 2010 ceremony that took place during SMTA International at the Walt Disney World Swan and Dolphin Resort in Orlando, FL.
The JX-100LED is an enhanced JX-100 designed to support boards up to 31.5 x 14 when indexed twice in the machine. Targeted specifically for LED manufacturing, the JX-100LED features new algorithms created for the placement of side-view type LEDs, top-view LEDs, rectangular ferrite chip-type and PLCC-type LEDS, making it the ideal low-cost placement solution for LED chips in fast growing markets such as laptop computers, LCD backlights, and a variety of lighting equipment.

The JX-100LED placement system uses the same state-of-the-art, high-resolution, optical vision centering placement technology found throughout the entire Juki product line. Components are rotated 360° in the laser. Also, the system supports an automatic tool changer, which enables a variety of nozzles to be automatically changed during manufacturing.

With speed in mind, the JX-100LED can place 15,300 chips per hour at IPC 9850 and support the placement of parts from 01005 to 33.5mm2. Additionally, the JX-100LED features an optional tri-colored vision centering system that can be used for placing fine-pitch QFPs, BGAs and QFNs for added flexibility and accuracy.

All Juki placement machines come standard with a three-year parts and one-year labor warranty.