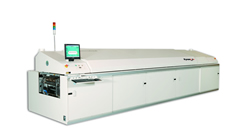 BTU International (Nasdaq: BTUI), a leading supplier of advanced thermal processing equipment and processes for the alternative energy and electronics manufacturing markets, has been awarded a 2010 Global Technology Award in the category of Soldering Equipment for its PYRAMAX™ 150Nz12 thermal processing system. The award was presented to Fred Dimock, Process Technology Manager, during a ceremony that took place at the SMTA International in Orlando, Florida. This marks BTU's PYRAMAX™150Nx12's third industry award. In addition to this Global Technology Award, the PYRAMAX™150Nx12 received the EM Asia Innovation Award in 2009 and 2010.
Beginning in 2005, the Global Technology Awards program is an annual celebration of product excellence in electronics surface mount assembly. Premier products, based on the finest examples of creative advancement in technology, are chosen by a distinguished panel of industry experts.

The 12-zone PYRAMAX 150Nz12 system inherited the quality, performance, and state-of-the art design of the PYRAMAX 125 platform, and is designed for higher throughput production. The system features a single process chamber, which provides a smoother process.

Compared to the previous 10-zone PYRAMAX150x5 system, the new 150Nz12 provides more flexible profiling, a low Cost of Ownership, market-leading technology of closed-loop convection control, and the best uptime in the industry. As with all of BTU's quality products, the PYRAMAX 150Nz12 system is backed by BTU's Industry leading comprehensive warranty.