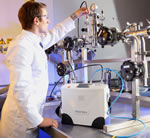 Parker domnick hunter has announced the launch of a new aerosol challenge test instrument. Designed utilising the company's leadership in the provision of sterile gas solutions, the Valairdata 3 provides a quick and easy means of verifying the integrity of sterile gas filters in-line, without compromising process security. Parker domnick hunter is one of the only filter manufacturers in the world to offer a fully automated, portable, aerosol challenge integrity test instrument.
This evolution of the instrument incorporates state-of-the-art technologies to enhance the benefits offered by the aerosol challenge in comparison to other sterile gas filter testing methodologies. Such feature upgrades include touchscreen operation, enhanced-life and lightweight battery, and USB transfer of test data. These features combine to improve the usability, data handling and ultimately reduce the time taken to perform filter tests in comparison to other instruments and methodologies.

During development of the Valairdata 3, Parker domnick hunter has addressed a number of industry requirements which include:
• Speed – The Valairdata 3 provides fast and reliable results. The test filter can be brought back into process immediately following testing, with no flushing or drying required.
• Portability – The lightweight design and enhanced-life lithium battery allows operators to test filters in-situ, reducing the length of time required for the testing process.
• Ease-of-use – The machine incorporates a touch screen facility with easy to follow instructions.
• Transferable results – Test results are securely stored within the unit in accordance with FDA 21CFR part 11 requirements and are easily transferred from the unit via a USB device allowing easy tracking and storage of data. No additional software is required for the data transfer.
• Accurate detection of filter failure – The Valairdata 3 directly measures the test filter's retention capability by simulating an aerosol bacterial challenge. A laser particle counter is used to detect minor filter failures by screening the filtrate for the presence of aerosol particulate.

Parker domnick hunter has tested the new product within a selection of customers' processes prior to release and a positive response has been received.