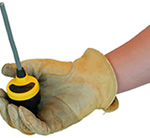 FlowLine Inc from California offers an advanced family of level measurement and control solutions for bulk storage, tanks, process vessels and waste sump applications. FlowLine's extensive portfolio encompasses a range of alternative level technologies including ultrasonic, capacitance, optical, radar, buoyancy and vibration, providing level control options for diverse applications, fluid types and process conditions. In particular, FlowLine is a recognised leader in non-contact ultrasonic level sensors, offering reliable and cost effective solutions for level measurement in challenging environments such as chemicals, waste and ultra pure liquids.
Whether the application is for continuous or point level, contact or non-contact measurement, in open or closed tanks or vessels, the FlowLine range includes a level transmitter or switch that meets the requirements. The addition of a FlowLine level instrument provides capabilities such as independent high or low level alarms and automatic fill-empty control.

FlowLine level transmitters and switches complement an already impressive product range managed by icenta CONTROLS. icenta represents some of the leading names in the field of flow, level, pressure and analytical measurement offering a range of solutions to manufacturing and process industries throughout the UK.