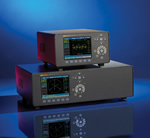 Fluke has introduced the compact, high-precision Fluke Norma Series Power Analysers which offer the latest power measurement technology to assist engineers with the development, testing and manufacture of motors and drives, inverters, lighting, power supplies, transformers and automotive components. These rugged analysers provide unmatched price performance for easy and reliable use in the field or as a bench unit in laboratories and on test benches.
The Series consists of the Fluke Norma 4000 Three-Phase Power Analyser and the Fluke Norma 5000 Six-Phase Power Analyser. Based on a patented high-bandwidth architecture, the instruments deliver precision measurements of single or three-phase current and voltage, harmonics analysis (up to the 40th), Fast Fourier Transformation (FFT) analysis, as well as calculations of power and other derived values. They provide class-leading accuracy and common mode rejection for any waveform, frequency, or phase shift. A unique user-configurable system design with plug-in power phases and other optional modules provides the flexibility to meet a variety of application measurement requirements. Recorded data and waveforms can be viewed clearly in the large colour display and easily downloaded to a PC for analysis and report writing using the Fluke NormaView software supplied with the analyser.

The simple user interface ensures easy, intuitive operation, allowing users to specify the exact functionality required for their unique application. The Norma Power Analysers accurately display dynamic events on all phases at exactly the same point in time with simultaneous parallel acquisition of all phases. An optional PI1 process interface is available to measure torque and speed with external sensors; it includes four analogue outputs for easy use on motor and drive applications.

Examples of use include:
• electric motors and inverters – for measurement of switching losses, torque transients and harmonics
• inverters – for simultaneous measurement of all electrical and mechanical power parameters in the same time window
• lighting systems – for detailed signal analysis at ballast outputs
• transformers – for highly accurate efficiency and loss calculations of large power transformers even at very low power factors
• automotive – to provide complete data on the efficiency and losses of individual components as well as the whole drive system.

Fluke Norma Power Analysers are available from Fluke authorised distributors.