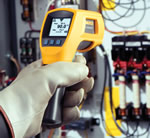 Fluke has introduced the Fluke 566 and Fluke 568 Thermometers, which feature advanced infrared (IR) temperature measurement functionality, a menu-based user interface and a graphical display to enable users to take even complex measurements quickly and easily and from greater distances. Both rugged, handheld thermometers combine contact and non-contact temperature measurement capability in one single, easy-to-use tool, providing a total temperature measurement solution for industrial, electrical and maintenance professionals.
The Fluke 566 and Fluke 568 Thermometers provide a broad temperature measurement range from minus 40C up to 800C with 1% measurement accuracy. With the intuitive user interface, users can access advanced features such as adjustable emissivity, alarms and data logging with a few pushes of the soft-key buttons via a menu displayed on the dot-matrix screen. The Fluke 568 thermometer can capture and store up to 99 points of data, which can be viewed in the display, or downloaded quickly to a computer via USB connection for later analysis and trending using the included FlukeView Forms software. With the USB connection and FlukeView Forms software, the Fluke 568 can also be used for real-time, hands-free monitoring of temperatures to troubleshoot processes and equipment.

Both models include a K-type thermocouple bead probe, enabling users to take contact measurements immediately. The thermometers are also compatible with all standard mini-connector type-K thermocouples. MIN, MAX, AVG, and DIF temperature values are captured to help users save inspection time and reduce calculation errors. Audible and visual alarms can be easily set to instantly alert users of measurements outside of set limits. The display has two levels of backlight to facilitate viewing in a variety of lighting conditions.

The Fluke 568 features a distance-to-spot ratio of 50:1 and the Fluke 566 has a distance-to-spot ratio of 30:1, enabling users to accurately measure smaller objects or from further away. The adjustable emissivity feature with built-in materials table and numerical settings for common materials allows users to measure a wide variety of surfaces more accurately and to easily compensate for shiny surfaces.

In addition to the Fluke 566 and Fluke 568 Thermometers, the Fluke 560 Series includes the Fluke 561 Infrared Thermometer for basic temperature measurement applications in plant maintenance, HVAC and electro-mechanical environments.