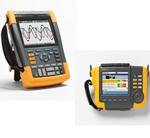 Fluke is celebrating its 65th anniversary by offering special promotions. With purchases before 31st July 2013, Fluke is offering customers buying a Fluke 190 Series II ScopeMeter, or a Fluke 810 Vibration Meter, a free extension of warranty to 5 years or a free Samsung tablet. The rugged, handheld, 2 or 4-channel Fluke 190 Series II ScopeMeters offer bandwidths of 60, 100, 200 and 500MHz, with IEC 61010 safety ratings of 1000V CAT III/ 600V CAT IV.
Designed for the industrial plant maintenance professional servicing, installing and maintaining heavy duty electrical equipment, electro-mechanical machinery and plant automation control systems, they can be safely used on industrial equipment that is permanently installed on an electrical distribution system.

They include innovative functions like ScopeRecord, TrendPlot, advanced triggering and automatic measurement functions you would expect to find in high performance oscilloscopes.

The handheld Fluke 810 Vibration Tester enables maintenance teams to rapidly collect data and diagnose and solve mechanical problems with an affordable, easy to use tool. Viewer PC software included enables transfer of data for machine setups, more detailed diagnosis and diagnostic reporting.

The Fluke 810 is designed to diagnose the most common mechanical problems of imbalance, looseness, misalignment and bearing failures in mechanical equipment, including motors, fans, blowers, belts and chain drives, gearboxes, couplings, pumps, compressors, closed coupled machines and spindles.

Purchasers can obtain the extended warranty or Samsung tablet by registering their purchase and following instructions on the special promotions web page (terms and conditions apply - full details on the web page).