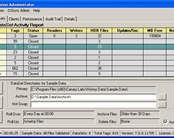 Canary Labs' latest release of Trend Historian (Version 7.0) eases the tasks of collecting, storing, managing, and automatic validation of unlimited quantities of information to end-users. Many tasks are now automatically provided to manage the data files. Collection files can be compressed into daily, weekly, monthly or quarterly files with no data loss. Time-series data is stored and retrieved in its original resolution. The data can be archived and moved automatically to other systems with the proper disk capacity on the network while still providing immediate access to this data for the users. The Trend Historian also provides continuous background validation of data files to insure data integrity.
Trend Historian will provide unlimited visibility into the manufacturing operations by accurately accumulating gathered data. This information can improve companies' operational flexibility and performance. The Historian is scalable from 100 tags to over 100,000 tags on one machine and also includes dataset synchronization to duplicate information to other systems. The administrative tools add great functionality while being easy to use and makes setup a snap. These tools allow the user to monitor what is going on inside the historian and PC from updates per second, available disk space, number of clients attached, CPU usage and memory performance. The administrator also allows the user the ability to drill down to the details of the exact data TVQ's (Timestamp, Value, Quality) written in the local Historian or can view and control other historians on the network. The Trend Historian runs on standard PCs and do not require server class machines while operating on Windows 2000 or higher including Vista.

Other Canary products included in this release are Trend Link, a highly functional trend viewer that is responsive, intuitive and extremely easy to use, and Trend Web for internet access. Also included are Trend Calc, to combine, compute and transform plant level data for reporting; and Trend Export, which allows easier reporting and statistical analysis. The Canary software is built around the OPC standards assuring interoperability and eliminating the need for expensive custom interfaces and drivers for moving information between systems.