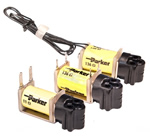 The Precision Fluidics Division of Parker Hannifin announces the release of its newest miniature proportional valve, the VSO-MI, a miniature proportional valve that provides medical equipment manufacturers a "value-added" solution that is easy to integrate, reliable, and provides repeatable pneumatic control across various media types.
"Customers told us that they want their component suppliers to provide more value in order to help them compete and expand their presence in the global market" says Jeffrey J. Koczela, Product Manager at Precision Fluidics Division.

Medical equipment manufacturers want to reduce time to market and overall system cost. The VSO MI miniature proportional valve was developed to help satisfy those needs.

Unlike competitive valves in its class, the VSO-MI miniature proportional valve has been tested to U.S. Pharmacopoeia Class VI requirements making it easier to achieve system compliance for toxicity and sensitivity.

With integrated filtration, captive seals, flush manifold mount capability, low power consumption and light weight construction; the VSO-MI is an efficient miniature proportional valve that delivers the benchmark level of precise flow control and performance medical equipment manufacturers have come to expect from Parker Precision Fluidics.