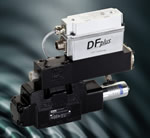 Parker Hannifin, the global leader in motion and control technologies, has launched an innovative new series of pilot-operated servo proportional valves. Based on the company's proven direct operated DFplus hydraulics control valve, the new D*1FP series features Parker's patented and innovative Voice Coil Drive (VCD) technology, which has already improved the performance and productivity of hydraulic systems used in machinery around the world.
The Voice Coil Drive is based on the same principle used to vibrate the diaphragms of loudspeakers and Parker is the first full range manufacturer to succeed in using it to control the high forces within hydraulic valves. By producing dynamics on a par with modern servo valves, the VCD technology results in a much simpler valve structure.

The new pilot operated D*1FP series has now transferred the advantages of the VCD to larger frame sizes and higher flow rate valves. The high dynamics and precision of each new pilot valve delivers optimum control of the main spool, resulting in servo class performance from the complete valve.

In addition to the benefits offered by the high dynamics, the control behaviour of the valves ensures high stability in operation and easy, time-saving installation and set-up — all essential elements in creating hydraulic systems that can help deliver to manufacturers reduced cycle times, improved product quality and minimum scrap rates. Whether in the direct or pilot operated valves, the VCD technology offers the same benefits of robust design and long life times.

A new safety concept with the pilot valve can also reduce the need for additional shut-off valves in hydraulics systems. It works via a safe forth position of the D1FP pilot valve to ensure that the main stage is hydraulically balanced at power down and the main spool is in a safe position.

The new D*1FP series is available in the four sizes: NG10 (CETOP05), NG16 (CETOP07), NG25 (CETOP08) and NG32 (CETOP10). With flow rates of up to 3000 l/min, the valves bring the advantages of Voice Coil Drive technology to almost any size of hydraulics system, and are supported around the world by Parker's global network of manufacturing, sales and customer support centres.