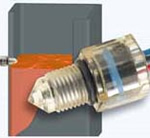 Gems Sensors & Controls has announced the launch of a new miniature, low cost Electro Optic Level Sensor, the ELS-950. The compact size, durability, high temperature capability and low cost makes the ELS-950 ideally suited for monitoring coolants, lubricants, hydraulic fluids and overflow reservoirs in industries as diverse as off highway vehicles, medical, oil and gas, water, HVAC, marine, transport and food & beverage.
The

Operating over a temperature range of -40˚C to + 110˚C, the ELS-950 sensors offer ± 1 mm repeatability. Solid state switching means that there are no moving parts, ensuring reliability and a long service life. Installation is simple and quick through the top, bottom or side of the reservoir.

ELS-950 utilises the proven technology of the ELS-900 series and was developed to provide an excellent price to performance for OEMs demanding a small, solid state sensor that is durable enough to handle rugged applications. Features such as over-moulded electronics, TPE insulated wires, and fluorosilicone O-ring seals create a watertight, environmentally resistant assembly for use in harsh environments. Housing options include Polysulfone or Polyethersulfone to provide compatibility with a broad range of fluids.