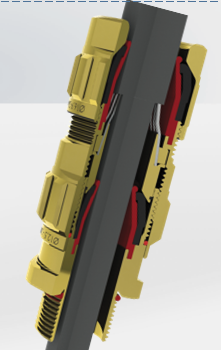 Industrial connectivity experts, Motion29, have collaborated with superior German manufacturer, HUMMEL, to introduce their new 'Exios' range of cable glands especially suited for hazardous areas including environments involving explosive gases, large amounts of dust and extreme temperatures.
Thei

"It's a privilege being able to offer the new HUMMEL Exios range to our customers" says Motion29 co-director, Andrew Wilkinson. "The range satisfies the latest IECEX and ATEX explosion protection standards making the glands suitable for use in areas where there are high levels of gas and dust. There are no weak spots in the construction and the temperature range is from -60°C to +105°C, making Exios extremely robust and resilient to the most hazardous of areas."

Motion29 have all nine sizes (M16 – M75) of Exios available which includes the smallest cable gland on the marekt (EXIOS 20-1 à AF 22, 155gr). All are made from durable high-grade brass or stainless steel with the additional option of nickel plating. Sealings and O-Rings are made of silicone as standard.

The Exios has an exceptional clamping range and uses the time-proven HUMMEL clamping system. The innovative 'Interlocking Armour Cone' has an acceptance range from 0 – 2.55mm and creates zero torsion on cable cores and armour. The dual seal on the inner and outer sheath of the cable ensures low cable damage and advanced strain relief (in realistic conditions IEC 60079-0:2009 and IEC 60079-1:2007).

r resistance to extreme environments coupled with an innovative interlocking 'Armour Cone' makes HUMMEL a safe, trustworthy and cost effective option.