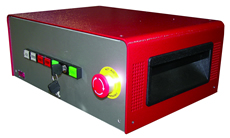 Techno, Inc. Linear Motion Systems is proud to announce the iMC-P1 multi-axis stepper controller. This single-to four-axis controller is complete with drives, power supply, I/O, enclosure and software. It can be used for pick-and-place, dispensing, assembly, testing, drilling, routing, welding and general automation applications.
Joe Griffin, Techno Linear Motion Sales Manager says, The iMC-P1 controller is a low-cost, compact controller that simplifies the task of selecting a complete stepper control system. The unit's enclosure is rugged and industrial, with Start, Stop and Reset buttons. There are (8) 24VDC inputs and (8) 24VDC outputs. And a durable desktop enclosure makes for a robust system that can operate on any plant floor without worry of damage.

The step size function can be changed, via dip switches, from full to half to micro-step. Each controller can perform linear and circular interpolation and PalPC motion control software is included standard with every iMC-P1. Customers can also download Free LabVIEW drivers from our Web site to use with their applications.