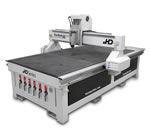 Techno, Inc. CNC Routers is proud to introduce the new HD Series CNC Router, a new precision cutting system. Developed by a team of engineers using global state-of-the-art manufacturing techniques, this all-steel constructed machine utilizes superior quality components such as precision THK rails and bearings, precision rack-n-pinion drives on the X- and Y-axes, and a ballscrew-driven Z-axis.
"The new HD Series will offer a freedom to customers never offered before – we guarantee customers will be cutting parts the same day power is connected," says Sales Manager Roy Valentine. "Each machine comes with an extremely easy-to-use hand-held controller which makes installation and training child's play through the use of a self-teaching, step-by-step manual."

Techno's HD Series CNC Router also features brushless micro-stepper motors and controls, a 5-hp HSD high-frequency spindle, 6 zone adjustable vacuum table, and a 10HP rotary vane vacuum pump. This entire setup is priced at $26,500 (as of November 2011). Techno continues its industry-leading developments and promises to deliver superior quality equipment at affordable prices, as always keeping true to their motto: "Small Investment, BIG RETURN".